What are people saying about the Guide?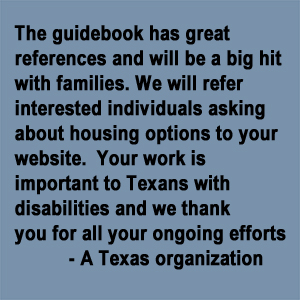 Large Quantity Independent Living Guide
Planning for Independent Living
A Texas Parent's Guide to Independent Living for Adult Children with Intellectual and Developmental Disabilities
$6 per copy, includes s+h
48 page guide, full color
Table of contents
Independent Living Transition Plan
Legal, SSI/SSDI, Health & Services
State Level Services
Employment
Transportation
Community Participation
Encouraging Independence
CPSH Housing Programs
After Moving Day
Planificación para la vida Independiente
uía Para los padres de Texas con hijos adultos con discapacidades intelectuales y discapacidades del desarrollo
Pre -ordenar su copia , hoy.
El envío en septiembre de 2016 o antes
$ 6 por copia , incluye s + h
guía de 44 páginas , a todo color
If you are interested in purchasing large quantities of the Independent Living Guide (English or Spanish) for your organization, please send CPSH an email here.