September 2019 Creating Home News
Creating Home News
Collin, Denton, Dallas, Ellis, Kaufman, Rockwall and Tarrant Counties
• September 4, 2019 •
CREATING HOME NEWS - news for people living with intellectual/developmental disabilities and neurodiversty, their families, and people who support them in their goals to live to their fullest potential.

Let's create housing options so that people with disabilities can select from homes near health providers, employment, transportation, and social opportunities. They have the right to nothing less.

Your Donations in Action
Thank you to CPSH donors for funding the 9/3/17 My Home Plan Workshop and belong disAbility Ministry, Highland Park United Methodist Church for hosting this event. Fifteen families worked on plans for independent living.

Registration Open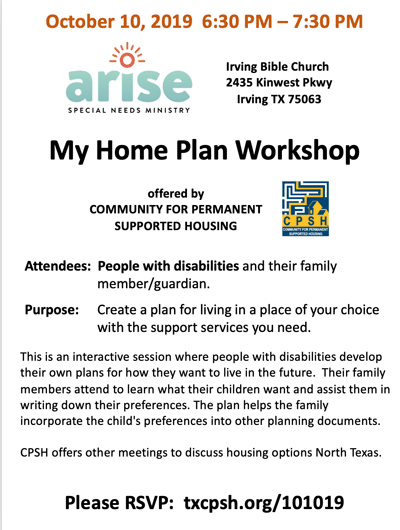 ISPACE Homes App Now Available!

A new iPhone app connects people with disabilities with property owners who want to rent their properties to people with disabilities. The app also connects tenants who want to be house mates.

"So easy to use and sign up for."

"We had looked at a house for our son and applied for him to be a tenant. He wasn't selected and now because of the ISPACE app we have more choices."

If you are a property owner who has property to lease or a person with a disability (or family of that person), please create your profile as soon as possible. More profiles means more people finding homes of their choosing.

Instruction to download:

Open the App Store in iOS by tapping on the icon on your Home Screen
Tap Search
In the keyword field type ispacehomes
Check back on the App Store for updates
For more information go to txcpsh.org/ispacehomes.



9.19.19 Save the Date!
Is CPSH helping you?

Do you love what we do?
© 2019 COMMUNITY FOR PERMANENT SUPPORTED HOUSING - All Rights Reserved.
NON PROFIT CHARITY EIN# 45-1653380